Sizzling Hot Deluxe is a modern tribute to one of the oldest slots – the fruit machine. It retains all of the same gameplay but has been updated with better graphics and sound, as well as a 'modern' look.
The symbols are classic fruit like lemons, melons, and cherries. They also include a lucky seven for the big win.
Sizzling Hot Deluxe is based on the old-school version of a classic slot machine and emulates that same feel to its gameplay. You can find out more about that below.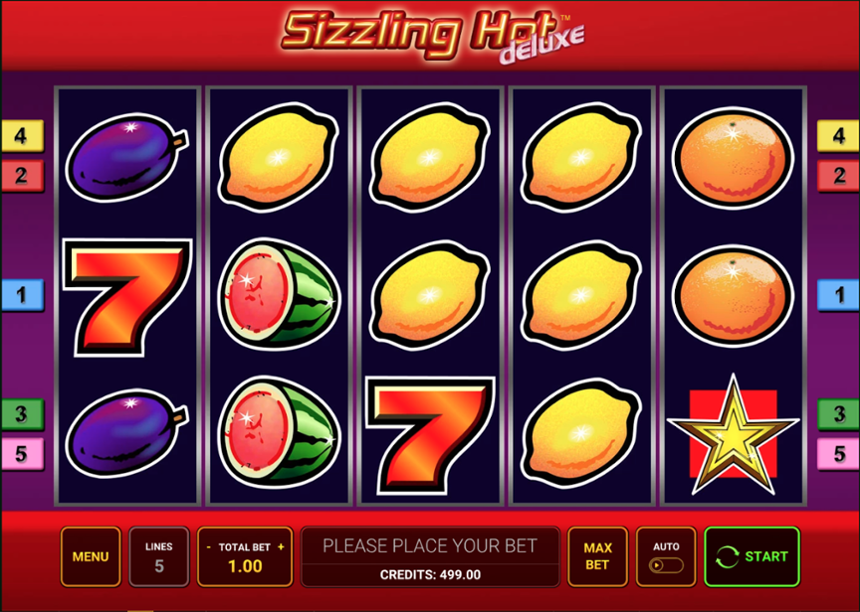 Sizzling Hot Deluxe slot machine has HD design.
Sizzling Hot Deluxe Gameplay
The gameplay is really simple and the interface is very user-friendly. You have to tap to interact and this may seem hands-off. However, there are actually a lot of ways you can make interactions interesting enough without fiddling with symbols, bonuses, or spins.
The only concession to modernity is the opportunity to double or spin a wheel when they win, providing a more interesting element of risk.
What you are left with is a basic five-reel, five-win-line slot. You can't change the number of win lines, but they can still be fun to play
Graphics, Sounds, and Animations
The graphics are beautiful. Simple, classic designs with just enough style to give the game a modern edge without jeopardizing its minimalist feel.
The animation quality is crisp and clear, with the sound of just about any mechanical wheel you can think of. This also comes with the classic coin-in-slot machines and a satisfying win noise.
All in all the design is admirable.
Sizzling Hot Deluxe slot offers a standard gambling feature
Wilds, Bonuses, and Free Spins in Sizzling Hot Deluxe
You're in a hurry and need to get rid of your coins? Use the scatter feature! It pays out a nice amount of your bet, depending on the number and type of symbols!
Yet if you are looking for a more varied gaming experience and the possibility of big wins, you need to turn to other games.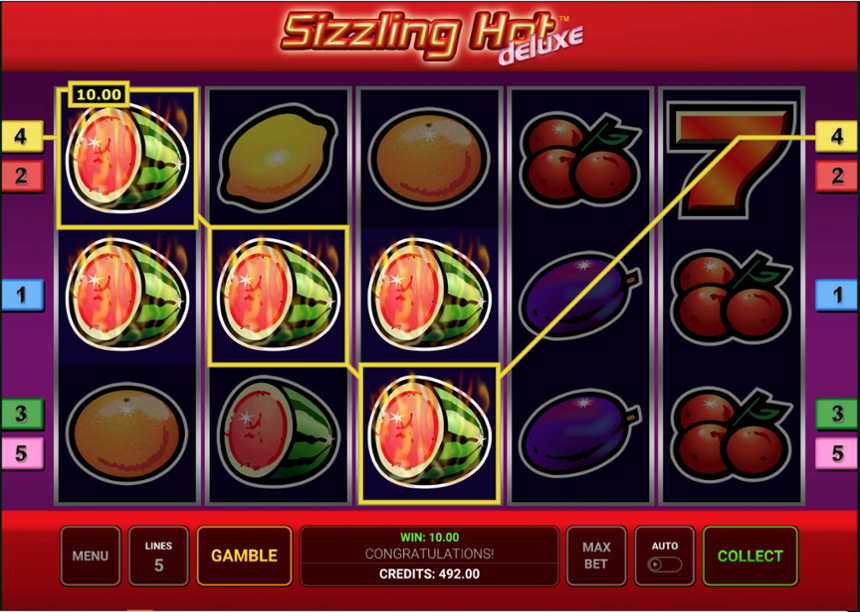 Sizzling Hot Deluxe Bet Sizes, RTP, and Variance
The RTP for this slot is 95.66%. While that isn't the best stat out there, it's pretty common in this niche.
This game has a lower average RTP than usual, but it's accompanied by high variance. The game pays out very rarely (oftentimes at the lowest amount of 4x your bet), but every now and then you'll get lucky and hit one of the big wins.
As a result, bets ranged from £/€/$0.10 to £/€/$50.00.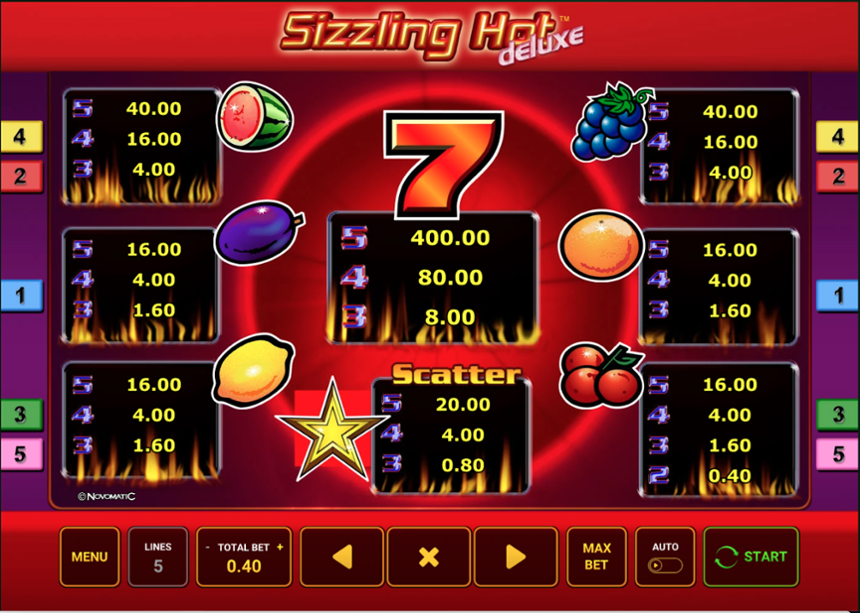 Conclusion
Sizzling Hot Deluxe does what it sets out to do, but that's about all it does. The game is for players looking for a straightforward experience and might be labeled as boring by veterans of newer games.
It has a nice aesthetic, it sounds great and if you don't expect it to have loads of clever side games and flashy bonuses then it's perfect for you.